Centre of Excellence in Migration and Global Studies (CEM&GS)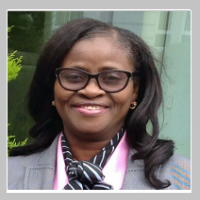 Gloria Oiyahumen Anetor is a First-Class graduate of the University of Ibadan in Health Education and was a Federal Scholar for her undergraduate studies. She obtained the doctorate from the same University in Health Education with a focus on nutrition education. She was mentored by late Professor James Abodurin Ajala Ed.D., M.P.H. (Boston University, USA), a renowned public health and health education specialist and Professor Benjamin Ogundele, PhD (Ibadan, Nig.). She also obtained a master's degree in Public Health from University of New England, Maine in the United States of America. Her initial background was in Nursing, where she holds three diplomas (Nursing, Midwifery and Perioperative Nursing). As a professional Nurse, she rose to the rank of Assistant Director Nursing (ADN) at the University College Hospital (UCH), Ibadan from where she joined academics. She is currently a Professor of Public Health  Education in the Department of Public Health Science, Faculty of Health Sciences, National Open University of Nigeria (NOUN).
 She was the Head of Unit, Public Health from 2014 to 2016, pioneer Head of Public Health Science 2016 to 2019, at the Faculty of Health Sciences, National Open University of Nigeria (NOUN). She was also the Deputy Dean, Faculty of Health Sciences from 2018-2020.
She is a member of many learned societies, including the Nigerian School Health Association (NSHA), American Public Health Association (APHA), American Psychological Association (APA), African Council for Distance Education (ACDE). She is a member of International Union of Health Promotion and Education, France (IUHPE, Fr.), She is also a member of the Institute of Health Promotion and Education, United Kingdom (MIHPE, U.K.), Fellow of the Society of Public and Environmental Health, Nigeria (SEPHON, Nig.)  and Fellow of the Royal Society of Public Health, United Kingdom (FRSPH, U.K.).
 She has published many scholarly articles in national and international journals. She has also attended major national and international conferences, workshops, and seminars among which are Management of Child and Adolescent Obesity organized by the University of British Columbia, Canada, International Business and Education, Clute Institute, London and the World Distance Education conference by the International Council on Distance Education (ICDE), UNISA South Africa and Meetings by Society of Toxicology (SOT) of the United States in Arizona, San Diego and Baltimore. She was also a visiting scholar to Florida International University (FIU), Miami, Florida in United States, 2018.
Prof. Gloria Oiyahumen Anetor
Tel: +234 8033635551
Email: ganetor@noun.edu.ng
Historical Context of CEMGS
Global migration and mobility has become part of human history and cannot be divorced from developmental plan, economics, politics, social, and education of the citizens. Both internal and external migrations have to influence who we are, what we do, and our future. The establishment of the Centre marked a milestone in the history of NOUN under the leadership of Professor Abdallah Uba Adamu, the Vice Chancellor.
The Centre is therefore a fulcrum of research about migrations, both internal and external; and its conceptualisation, contextualisation, and decolonisation are primarily for internal paradigm, dimension, and capacity development for field-based research and policy oriented recommendations arising therefrom. It is a critical Afrocentric centred division that transfers theories, concepts, etc. into policy oriented research useable for national policy use, and global adaptation. Our Migration Observtory are field-based using ethnographic, arts methods, and extensive narratives that validates theories.  
Core Mandates of CEMGS
To provide leverage for field based and solution driven research

To serve as agent of national policy for migration studies

To seek grants for academic activities and outreach for sustainability

To organise occasional papers, seminars, conferences, and public lectures

To publish and sustain peer reviewed academic journal and monograph series

To collaborate with stakeholders in the field and policy makers
Operations
The following sections form the core of our operation:
Director's Office

Administrative and Secretariat Office

The Hub: Research, Publications, and Outreach Office

Centre Library and Information Technology
Vision
To be the bridge between humanity and the future
Mission
To provide sustainable leverage for interdisciplinary research in migration and global studies
Core Values
Integrity |Inclusion |Diversity | Service |Participatory
The Centre of Excellence in Migration and Global Studies was established in February 2020 with a grant from TETFUND, the Centre of Excellence in Migration and Global Studies is a research hub with emphasis of field based research that impacts policy formulation and execution for solution to both internal and global migrations. We focus on internal capacity building first and foremost, and stress Afrocentric-based methods in Arts, Humanities, Social Sciences, and Science. It is the first of its kind in Nigeria and an innovation with distinct concept, context, perspective, and focus.
 
You may wish to visit the Website link for more details.