Directorate of Examinations and Assessment (DEA)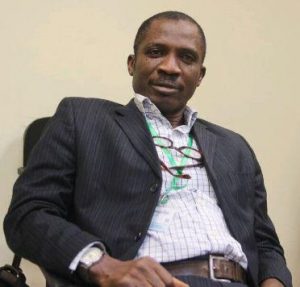 Position:    Professor/Director, Directorate of Examinations and Assessment
Email Address:    oojo@noun.edu.ng
Phone:        +2348034024688
Location:    Abuja Headquarters
Profile: Professor Olugbenga Ojo is currently the Director, Examinations and Assessment, National Open University of Nigeria. A Professor of Guidance and Counselling Psychology in the Department of Educational Foundations, Faculty of Education, National Open University of Nigeria. He is married with children.
Brief History of the Directorate
The Directorate of Examinations and Assessment (DEA) was established in 2005 as a Unit in the Vice-Chancellor's Office and christened as University Examinations and Assessment Office by the duo of Dr. Samuel Ibidapo Ogunrinde (University Examinations Officer) and Dr. Olugbenga D. Ojo.
Professor Femi Peters became the pioneer Director, from 2007 to 2008 with the conversion of the Unit to a Directorate. Professor Olugbenga Ojo was appointed as the Ag. Director from 2008 to 2009 to take over from Professor Peters.
Dr. Bola Akinsanya, who succeeded Professor Ojo became Ag. Director in 2009 and was succeeded in 2010 by Dr. Ukoha Igwe as Overseer (who also doubled as the University Librarian and Director, Learning Resources Centre).
Professor Godswill Obioma became the firth head as he was appointed the substantive Director in 2016 and was subsequently succeeded by Professor Godwin I. Akper in May, 2017 until September, 2021 when the current Director, Professor Olugbenga Ojo assumed the Directorship, his second stint in this capacity.
Vision
Strives to earn respect and hold trust of learners and other stakeholders for its outstanding quality of work, solutions and Examination administrative foresight.
Mission
The Directorate of Examinations and Assessment (DEA) is to be regarded as the foremost Directorate promoting academic integrity through the administration and supervision of examinations, utilising the latest technologies to ensure academic integrity and fairness by strictly adhering to professional standards and guidelines through the Open and Distance Learning.
Objectives of the Directorate
To increase the efficiency, effectiveness and the overall quality of the University examination administration.
Customer service and responsiveness; addressing queries in a timely manner and with diligence.
Effective Communication, exchange of information on examination issues.
Functions of the Directorate
preparation of Examination Timetables
custody of the formatted and coded examination questions received from Faculties
coordinate the systematic development of the Examination Question Bank
custody of pen on paper (PoP) Marked Answer Scripts
preparation of Examination Budgets in collaboration with the Bursary
coordinate the administration of PoP and e-examinations generally which includes:
co-ordination and collation of test items
ensure adequate provision of facilities needed for smooth conduct of all examinations at the study centres
provision of adequate logistics for examinations at the examination venues
ensure timely release of exam results
ensure adequate security and discipline and the credibility of the examination process at the examination venues
ensure availability of appropriate health services at the examination venues
co-ordinate Conference Marking
ensure availability of answer booklets at examination venues
co-ordinate the monitoring and evaluation of all examinations conducted under its supervision.
ADMINISTRATIVE STAFF AT THE HEAD OFFICE
| | | | |
| --- | --- | --- | --- |
| S/N | NAME | DESIGNATION | EMAIL ADDRESS |
| 1 | Prof. Olugbega D. Ojo | Director/Professor | oojo@noun.edu.ng |
| 2 | Dr. Adedapo Adeyemi | Deputy Director | aadedapo@noun.edu.ng |
| 3 | Ambi Philemon Danladi | Principal Assistant Registrar | dambi@noun.edu.ng |
| 4 | Nwanah Chijioke Kenneth | Assistant Registrar | knwanah@noun.edu.ng |
| 5 | Olaniyi Abimbola Oluwole | Assistant Registrar | aoolaniyi@noun.edu.ng |
| 6 | Obi I. Adaku |  Assistant Registrar | aobi@noun.edu.ng |
| 7 | Adebayo Sunday Kayode | Administrative Officer 1 | onyekwelu@noun.edu.ng |
| 8 | Onyekwelu Ifeoma Lynda | Administrative Officer 1 | aayuba@noun.edu.ng |
| 9 | Abdul Ayuba | Administrative Officer 1 | auzairu@noun.edu.ng |
| 10 | Uzairu Zulkiful Abubakar | Senior Confidence Secretary | |
| 11 |  Owoicho Adah | Senior Clerical Officer | |
| 12 | Shaibu Francis Okpe |  Clerical Officer | |
| 13 | Samaila Jatho | Senior Artisan | |
| 14 | Yusuf Grace | Senior Environmental attendant | |
| 15 | Abdulkarim Abdullahi | Environment Attendant | |
DEA TECHNICAL STAFF 
| | | | |
| --- | --- | --- | --- |
| S/N | NAME | DESIGNATION | EMAIL |
| 1 | Alale Anthony |  Assistant Chief Technical Officer | oalale@noun.edu.ng |
| 2 | Osinubi O. R Oludamilola | Principal Database | sdahunsi@noun.edu.ng |
| | | | |
| 3 | Jabani Dingari |  Principal Hardware Engineer | djabani@noun.edu.ng |
| 4 | Jumoke Salako | Principal Database Administrator | jabikoye@noun.edu.ng |
| 5 | Buhari Alhassan | Senior Network Engineer 1 | balhassan@noun.edu.ng |
| 6 | Abdullahi Modu Lamaba | Database Admin 11 | alamba@noun.edu.ng |
| 7 | Gambo Bakari | Network Admin 1 | gbakare@noun.edu.ng |
| 8 | Mubarak Jubril Zarewa | Database Admin 1 | mzarewa@noun.edu.ng |
DEA STORE STAFF
| | | | |
| --- | --- | --- | --- |
| S/N | NAME | DESIGNATION | EMAIL |
| 1 | Hassan Abdulmumin | Principal Store Officer | ahassan@noun.edu.ng |