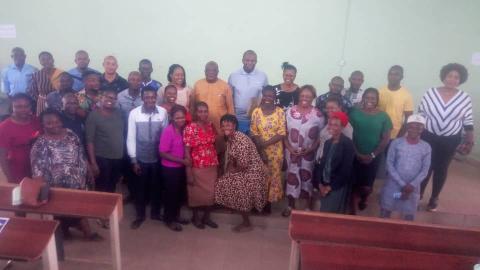 The Enugu Study Centre Director, Professor Alexander Uche Onyia, has said that the management of National Open University of Nigeria's (NOUN) expectations from the centres are higher and cannot be compromised.
He disclosed this while addressing the centre's staff during a post-examinations meeting held on Tuesday, June 21, 2022 to basically evaluate its successes and weaknesses in the discharge of their responsibilities of the 2022_1 Pen-On-Paper (POP) as well as e-examinations.
While taking stocks of the centre's weaknesses for improvement, Onyia also commended the staff for their unflinching supports and commitment in ensuring hitch-free exercises as well as conference marking exercise.
The director explained the importance of approaching the second semester calendar of the university with vigour, doggedness and uncompromising attitude, adding that the centre has more grounds to cover so as to move to a greater height.
"Essentially, we are here because of the students and we need to painstakingly handle (them) like eggs. This is because if we treat them politely and respectfully, they would encourage their friends to enroll at the centre," he stated.
Onyia charged the staff that all hands must be on deck to ensure that the accreditation exercise slated for October/November 2022 would sails through, even as he attested that since 2017 the centre has not witnessed failure on accreditations and this year's own would not be an exception.
According to Onyia, punctuality, dedication and team work are required, even as he warned staff to avoid acts capable of tarnishing the hard-earned reputation of the institution as the university management would not hesitate to deal with the culprits mercilessly.
On the part of security, he pleaded with the security personnel to be on alert and sensitive to the environment as well as carefully monitoring of entry and exit of persons, stressing that if they see anything, let them say something.
Onyia expressed  the centre's  preparedness of embarking on aggressive advocacy campaigns as one of the ways of attracting students enrollment to the centre.
He appealed to the various units to rise up to face the challenges the second semester would bring , even as no lackadaisical attitude would be tolerated.