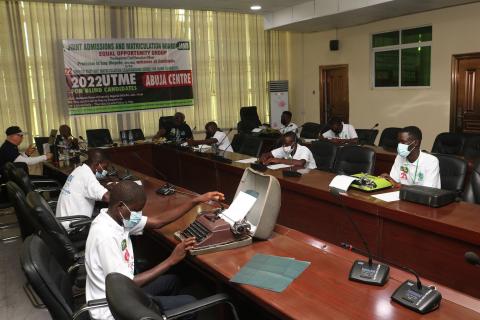 As one of the stakeholders in the promotion of education in Nigeria, the National Open University of Nigeria (NOUN) has hosted about visually-impaired candidates for the 2022 University Tertiary Matriculation Examination (UTME), organised by the Joint Admission & Matriculation Board (JAMB).
The 3-day exercise for the visually-impaired candidates ran from Wednesday May 11 through Friday, the 13 of May, 2022, at the university's headquarters in Jabi, Abuja.
While fielding questions from the NOUN News correspondents shortly after the commencement of the exams, Abuja Zonal Coordinator of the JAMB Equal Opportunity Group (JEOG), Prof. Sunday Ododo, commended NOUN management for its continuous support.
"NOUN has been very dependable and a very great ally in attending to the needy within the JAMB spectrum. We are very grateful. No complaint so far," Ododo said.
Going down memory lane, the Abuja Centre Co-ordinator of JEOG said the journey between NOUN and JAMB for the visual-impaired started in 2017, adding that since then exams have been taking place in NOUN consistently and seamlessly.
Ododo, who thanked the NOUN VC, Prof. Olufemi Peters for being the first VC who addressed the virtual-impaired candidates before the commencement of the exams, also said that he (Peters) has "assured  us that any candidate that writes exams here (NOUN) and is interested in joining NOUN, they will do everything possible to accommodate them."
Speaking further, Ododo said that the idea is to bring the centre closer to the candidates so as not to travel far to eliminate transportation hazards and not to expose them to insecurity in the country.
"The idea of writing these exams is to give them opportunities to get admitted into other universities and since 2017 till now, 67 universities have admitted our candidates and we are hoping that more will join.
"NOUN is a partner in progress from day one. So far so good, NOUN has been very consistent and even if we have issue, once we raise it, they respond adequately. So, they have been very good partners," the co-ordinator said.