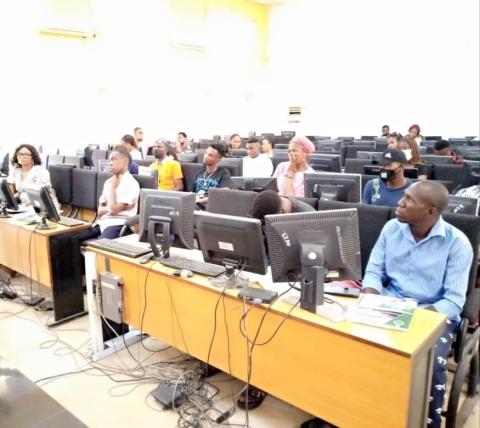 The Lagos Study Centre of the National Open University of Nigeria, NOUN, has held an orientation and staff/student interactive session at the centre.
The orientation which took place on the 31st of March 2022 was well attended by newly admitted students and some old students who wanted to witness how the exercise is done as they were not part of the last one.
In her opening remark, the Director of the centre, Dr Alero Akujobi who was ably represented by the Deputy Registrar, Mrs Muono Udong said the programme is for freshers of the university, mainly to give a brief history of NOUN as well as its operations.
Speaking on the unconventional mode of operation by NOUN, the director spoke about the privileges of students, explaining that they can defer their studies/admission and can resume anytime they take a break.
She urged the new intakes to avail themselves for the online classes, as it is crucial to their learning. facilitation by lecturers is guaranteed and they should take advantage of it.
Akujobi ended by admonishing the students to desist from examination malpractice. "Exam malpractice is taken seriously in NOUN, once caught, the individual may be suspended or (depending on the severity of the case) rusticated." She said.
Mrs Caroline Agbogidi, the centre Counsellor talked about exam preparations, advising the freshers to register for exams early and study hard to make good grades. She encouraged them to do their registration themselves and not patronise miscreants who are in the habit of dishing out fake registration slips. According to her, having a study schedule will aid them in their preparation, they'll be able to balance work and study time. She also said TMAs are important and they should do their TMAs themselves as it's also part of exam preparation.
The Chief Accountant, Alhaja Azeezat Adeniran while speaking to the new intakes emphatically pointed out that they should not patronise touts when it comes to finances but visit the bursary to get clarifications on all financial issues. She said they should always have copies of any payment they make for record purposes, as it will come in handy later on.
Mr Akeem Ogungbesan, the head of ICT pushed for the students to be familiar with the different university websites. He ran through the process of registration and how they can access their portal. Ogungbesan also talked about TMA and how it can be accessed as well. He said TMA was initially done in students' portals but that it's no longer the case. It can now be accessed via www.elearn.nouedu2.net.
Also present at the meeting were the Principal Assistant Registrar, Mrs Elizabeth Umoru and other faculty staff members who spoke on the various programmes in their faculties.
Students engaged the staff with questions which all were answered satisfactorily.