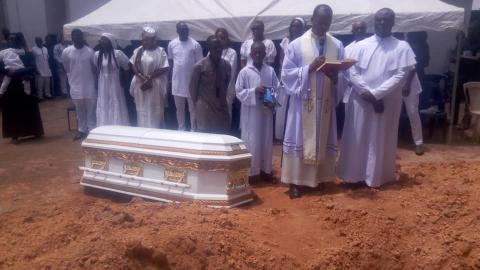 The body of Late Professor Joseph Onyemaechi Onwe, has been laid to rest and committed to mother earth at his own village, Eziechi Uhueze Nenwe, Aninri Local Government Area, Enugu State.
The Vice-Chancellor of National Open University of Nigeria (NOUN), Prof. Olufemi Peters, was represented by Enugu Study Centre director, Prof. Alexander Uche Onyia, even as the presence of faculties of Social Sciences and Management Sciences were equally noticed.
Rev.Fr. Simon Ani, in his message taken from 1Thessalonians 4: 13- 17 & John 11: 32- 44, said "Death is not the ultimate evil but the ultimate evil is to die outside God. The  souls of the righteous death are in the hand of God who will raise them again as Jesus Christ resurrected Lazarus from the dead. Physical death is a separation of the body from the soul."
Onwe, until his death, was a renowned Professor in the Department of Economics, Faculty of Social Sciences of the university.
However, testimonies about him showed that he was a developer, community leader and church builder, whose "tentacle of assistance" spread beyond his domain of origin.
Others attested that Onwe was an emblem of sacrifice, hard work and epitome of humility and national integration.
Friends, relatives, academic colleagues, well-wishers among others thronged-in in large numbers to commiserate and accord him the final respect.
The high profiles of personalities present at the occasion include Dr. Marcel O. Eze, Dr. Dickson Ogbonnanya Igwe, Dr. Eyanuku Julius Paul and staff of NOUN Community.
The attendance was impressive while the burial ended smoothly.