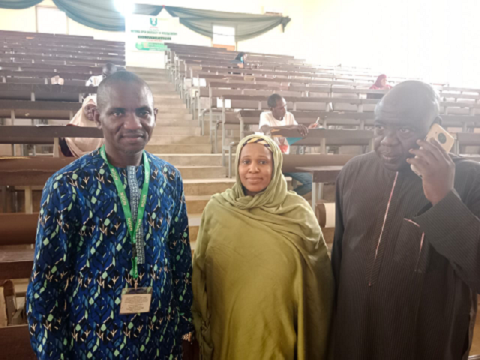 An External Examination Monitoring Officer, Dr. Ernest Ugbeijeh, has visited the  Bauchi, Azare and Bogoro Study Centres, where he commended the process and the orderly conduct of the ongoing 2022_1 POP examinations.
While at the Bauchi Study Centre,  Ugbeijeh was given a tour of the facility by the centre director Engr. Dr. Buba Shani, which afforded the visitor the opportunity to inspect facilities at the study centre.
Ugbeijeh, who is the Dean, Faucalty of Law, National Open university of Nigeria (NOUN), later monitored the exercise and expressed satisfaction at the professionalism of the staff in the conduct of the exercise and encouraged them to maintain the tempo.
He admonished the staff of the centre to be committed to their duties, and urged them to ensure that the study centre and NOUN at large are taken to enviable heights as well as to portray a positive light of the university in the community.
The visitor commended the centre director for the transformation witnessed at the Study Centre and encouraged him to keep it up.
When proceeded to Azare community Study Centre, Ugbejeh witnessed excellent conduct of examination under a clean and conducive  environment.
The dean, after monitoring the conduct of 8:00 session, he was later taken round for faciltity tour by the centre director Mr. Bulama Samson Mshelia
At the Bogoro Study Centre, the centre director, Professor Madugu Yalams, who received Dr. Ugbejeh, expressed his the delight for the visit and took him around the examination hall for proper monitoring and facility tour of the centre.
The dean expressed his appreciation on the  smooth conduct of the exercise, describing the process as very smooth well organised and excellent
The visiting examination monitoring officer showed his satisfaction with the activities at the three study centres and commended the centre directors and their staff for ensuring a hitch-free and seamless exercise.
All the three study centre directors have explained to the visitor  their experiences in this round of examination and applauded the Directorate of Examination and Assessment (DEA) for the quick and timely delivery of exam questions.